What happens when you send an emergency SOS?
The device's current location is received by emergency services. They may send a cop to check in on the person. Some phones also have the option of storing medical information for quick access in such scenarios.
How to make an emergency SOS call from the lock screen of your current Android phone?
There are two ways. We are referring to Xiaomi phones here, but the SOS placement is similar for Samsung/Google/Oneplus/Nokia or other Android devices.
Quickly press the power button 3/5 times to make an automatic SOS call.
Swipe to the lock screen and dial the emergency call button from the lock screen. These can also be caused by unintentional button presses/touches.
There are two main reasons for this feature. One is to allow the phone owner to contact emergency services quickly, or to save the phone owner if bystanders are not in a position to call themselves for help. Including this feature is a regulatory requirement by all phone manufacturers. However, unintentional emergency calls may be made due to rush dialing or children playing with the phone. This can lead to wasted emergency services time and resources. Some people may want to disable this feature to avoid accidentally calling emergency services.
Let's take a look at a workaround to disable false calls to emergency services.
To disable auto-dial by repeatedly tapping the power button:
The disable settings are located at the following path ->
Settings -> Password & Security -> Emergency SOS.
Select Disabled. You can also access the above by searching for "emergency" in the settings search bar. The image above is from redmi.
To disable SOS calls from the PIN/fingerprint system lock screen on non-rooted devices:
Disable system locks such as PIN/fingerprint.
Install third-party lock screen apps like Lock screen from Google Play Store and give them permission to overwrite other apps and change system settings. Then set a new PIN for the app. This will bring up a new lock screen every time the user swipes the phone. There are many other lock screen apps like the one above. They work more or less similarly. In other words, it replaces Android's lock screen with a custom screen without an emergency call button.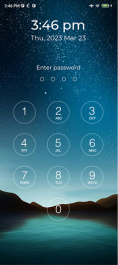 To disable SOS call from PIN/fingerprint system lock screen on rooted devices:
If you are a phone tweaking tech enthusiast and want to own a rooted Android device, we recommend doing one of the following:
Root your phone, then search for a custom ROM with emergency services removed, or hack the source code and build it yourself to flash your device.
Root your device and then install Lsposed/Xposed modules such as Tweakbox, Xsense, Gravity box. Enabling these modules allows you to change the lock screen icons, including the emergency call button. However, after doing a bit of research on these, I was unable to find a working module for Android 12. It doesn't look like these modules are actively supported. There is a module under active development called AOSP mods that people admire a lot. You can try it. Also, you should understand the risks of rooting your Android device. In the worst case, this can lead to data loss and phone failure.
You can also change your emergency contact number from the settings menu to dial family members instead of 911. This is a more acceptable workaround than disabling it.